GENERAL

Will you shoot multiple session types at once? No.  Unless discussed and agreed upon in advance the session fee is for one portrait session only.  If additional setups are requested during your scheduled shoot that fall outside of your session type an additional session fee will be required prior to any image delivery.
Why doesn't my print look like the images on your blog/website/web gallery? All images that are seen on the web are full frame images straight out of the camera.  Depending on the size of print you order the format will be cropped differently because the images are no longer full frame.  For instance, a 5×7 doesn't have nearly as tight a crop as an 8×10.  It's kind of like watching a movie in wide screen versus full screen.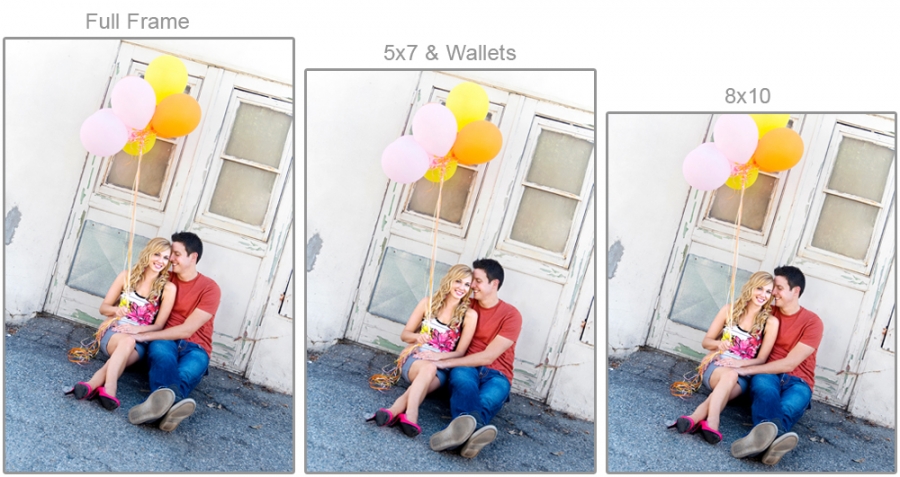 Do you do trade, pro bono or free work? We are always interested in talking about each of these scenarios.  Have an idea you'd like to run past us?  Don't be shy, contact us and we'll be happy to see if we can work something out.
PRE SESSION

Do you require a deposit? Yes.  A 50% non-refundable deposit is required to reserve the date and services for your portrait session and should be returned with your contract.  This deposit will be applied to the session fee.  If the session is rescheduled or canceled by the client, the deposit will not be returned or applied towards the rescheduled session.  The rescheduled session will require a new 50% deposit to secure the new date.  The balance of the session fee must be paid at the time of the session by check or cash.
Will we meet you guys before the shoot? Absolutely!  A pre-consultation is included with all session fees and is HIGHLY recommended.  I like to meet with clients to grab a cup of coffee (or whatever you're into) so we get a chance to chat and get to know each other while discussing ideas and details of your upcoming shoot.  This helps the shoot run smoothly and will make you feel more comfortable in front of the camera.
Where will the session take place? We shoot on location with available light only – usually in the early morning or late afternoon.  That location can be a field, the beach, a park or any favorite spot of your choosing…and if you're stumped, we have a few favorite locations that we can always recommend.  For newborns, we shoot in our indoor daylight studio (unless specifically requested otherwise).
How should I prepare for a home session? It isn't hard to prepare for a session in your home so don't stress!  It is fun, easy and relaxed to do an in-home session and believe it or not, you don't have to do a lot of clean up (phew!). First things first, we will take a look around your home to scope out different places we might want to utilize. Ultimately, we do the majority of home sessions in either your bedroom, the living room or in the nursery.  Just have a simple, plain bedspread on your bed and have your nightstands as clear as possible. Otherwise we will assess when we get there and help you with anything else!  The most important thing about a home session is to let us know when the MOST amount of light is coming through the biggest windows in the house.
When is the best time to schedule? Newborns should be photographed within the first two weeks of being born – the sooner the better.  At this age they are still very sleepy and easy to move around.  After the two week mark the babies become much more alert, active and lose that very brief "newness" that make newborn photos so beautiful.  After the newborn stage we recommend shooting at 6 months and a year to really capture all the changes during the first year of your baby's life.  Check out our Belly to Birthday package for great deals during that first year.
Maternity shoots really depend on how much you are showing and when you feel most comfortable with your baby bump. This can be different for everyone, but we typically encourage you to schedule your shoot at about the sixth month mark.
Birth photography should be scheduled asap.  We only accept a limited amount of births per month so that we can make sure to be there for our moms at the drop of a hat.
How long will the shoot last? While we set no time limit whatsoever, a shoot will typically last two to three hours.  However, your child's attention (or lack thereof) will really determine how long the shoot will last.
What should we wear to the session? Color is best and can really bring personality to your shoot!  Some rules of thumb to follow: no wild patterns and no logos – they detract from your beautiful faces! Don't go matchy-matchy – color-coordination is fine, but having everyone in exactly the same outfit is not ideal. Fun hats, shoes and accessories are great, bring them along as we can always put them on and take them off again. Try to think timeless with whatever you choose, you don't want to look back on a beautiful image and see an outfit and ask yourself, "What was I thinking?"
For newborns, birthday suits are best!  Followed by diapers, swaddlers, and onesies.  Soft textured blankets and fuzzy hats add in nice options as well; we'll bring an assortment of both but you're welcome to add some personal stuff to the mix!  Also, be sure to rub some lotion onto their skin prior to the shoot to combat any dry flakiness.
POST SESSION

How soon after the shoot will we see the photos? Within three weeks you will receive a downloadable web link to all your finished images.
How long do you keep our images? Because of the massive amount of hard drive space it would require to store all images from every shoot we do, we only guarantee storage of images for 30 days.  After 30 days the shoot may be deleted from our system so make sure to backup the digital files we give you!
Do we get the digital files? Yes!  Digital files are included in every session.